When I went home to spend some time with my parents, one of the people I asked about was my mum's best friend, Auntie Joyce*. Auntie Joyce and my mum got married pretty late, if you judged by society's standards back then. My mum got married at thirty one, and auntie Joyce got married the following year at age thirty. My mom, on one hand, being fertile as a rabbit, proceeded to have four children in five years. I think she was giving birth in quick succession so as to have completed childbearing by the time the biological clock started ticking loudly. Auntie Joyce unfortunately wasn't so lucky; she battled infertility for about nine years, suffering miscarriages in between. Finally, God blessed her; as she and her husband welcomed a son.
Daniel was the everything in his parents'world. They tried all they could to have another baby but none came, so Danny got all the love, affection and attention his parents had. He was like a little brother to my sisters and I, considering we didn't have a brother of our own, and judging by our mothers' closeness. He was a beautiful boy with the happiest smile in the world and we all loved him. Danny was well disciplined, intelligent and smart. He was indeed the pride of his parents and everyone close to him. Even I used to claim him as a brother whenever we went for outings together, and when nosy people would ask how he could be my brother when we didn't look alike. I was quick to say I took after mom, and he took after dad. Which wasn't a lie, because I do look like my mom…and he did look like his dad. Anyways, that was how much we all loved Danny.
As fate would have it, a few years ago, Danny died in a car accident on his way to school. His death came as a huge blow to all of us, but no one went through as much pain as his mother did. For weeks on end, she wept and asked why she was so unlucky. It was like her eyes had been plucked out, and she was thrown into an abyss of darkness. The funeral activities went past quickly and we all started adjusting to life without Danny'€™s face, jokes and smiles. Auntie Joyce started trying again, to have another baby. It was hard on her, picking up the pieces of your life and starting a journey you thought was long over, all over again. My mum was just glad that, at least, she was still seeing her period…so the fertility window was still open.
She and her husband tried for months to get pregnant, but the period kept coming, month after month. After a while, they decided to see a specialist who recommended IVF. Initially, they were repulsed by the idea, and they resisted. Auntie Joyce's husband told the specialist how his faith didn't permit IVF, and the doctor had a hard time convincing them to go for it. Eventually, they agreed and were both placed on vitamins, injectables and other supplements to boost both egg and sperm quality. Then the IVF process started and on the third cycle, Auntie Joyce got pregnant. Two embryos survived the transfer and when she heard their heartbeat in the first ultrasound, she wept uncontrollably; a mixture of joy and relief. No-one knew about her IVF except my mom until she gave birth to a bouncing baby boy and a beautiful baby girl, at the age of fifty five. It was then she opened up to a few people about the process God had used in giving her these angels.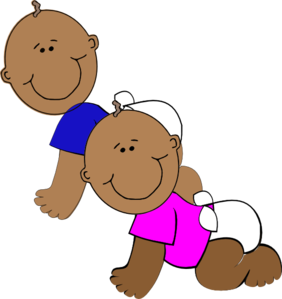 Losing a child is a pain no one deserves to suffer, but losing an only child takes it up a notch. It couldn'€™t have been easy for Auntie Joyce getting re-admitted into the TTC family, but her efforts paid off in the end. There are decisions to be made when one has to go through an experience such as this. We can decide to live or we can choose to die with the child. No child is replaceable and we all still remember Danny a lot; I know he would have been a great big brother, but life throws us curveballs sometimes. It matters what we make out of it. A lot of us trying to conceive have our different stories; it is important that we stick it through to the end and share our victory report!
Baby dust to all!
Join the conversation in any of our TTC and Pregnancy support groups here
Photo Credits
http://beautifulbrowngirls.com
http://www.clker.com