This is one of those spur-of-the-moment kind of write ups, which I practically just jumped out to bed to write. So, I got a call from my elder sister this evening that Faith has given birth! "Wow! That's great news" I said. "Boy or girl?"
"Boy oh" my elder sister said.
I was silent for about ten seconds, and she was too, on the other end.
"This life is unfair sha" she said when it was obvious I was still tongue-tied.
"What did Auntie Oge say?" I asked when I found my tongue.
"What do you expect her to say, Ify? God has His way of doing things jare".
My sister and I finished our conversation and I just kept saying "This life sha. This life sha" to myself. You see, Auntie Oge is my Mom's younger sister who battled with infertility for the first eight years of her married life. Those were not the days of assisted birth, so you can imagine what life must have been like; simply holding on to God and hoping that the next menstrual flow doesn't come. God smiled on her eventually and she had three children in quick succession; all girls.
Her husband's people went from calling her barren to the woman who can't bear sons. They pressurized her husband for so long, telling him how a man needs a son to continue his name and blah blah blah. He gave in eventually and married a second wife when his first child Faith was seventeen. Susan, the second wife gave birth to a girl first and we all rejoiced. Maybe now, Uncle Kene would see that it is not by marrying second wife oh. We forgot that part of the bible that admonishes us not to laugh at our enemies and we paid for it. Susan got pregnant again and gave birth to twin boys! Ha! Double blows below the waist! We were still questioning God and consoling Auntie Oge and telling her that her own would come when Susan got knocked up again and bore another son. When it rains, it pours, right? My mom and her siblings quietly changed tune, and started advising their sister to concentrate on raising her daughters; using people like the Late Prof. Dora Akunyili to preach about a strong woman being comparable to ten men.
Last year, Faith, Auntie Oge's first child, got pregnant for her university undergraduate boyfriend and it was the news of her childbirth that my sister called to share with me. The son that her mother had being begging God to grant her for over two decades, Faith got without even asking. I wonder what Auntie Oge must be thinking now and if she would still have strength to pray. For the first eight years of her marriage, she would have killed to have a child; and she spent the remaining years looking for a male child. Then her daughter gets pregnant out of wedlock, and behold, it'€™s a boy! Life can be unfair like that. I remember one of my good friends back in University, Queen, who got really pissed with this unfair life thingy. Some girls in class who didn't take classes seriously, and copied and cheated during examinations, would come out with the same, or even better grades than those of us that buried ourselves inside our books. It got to Queen, when we wrote an exam and the best students in class got Cs, while the rest scrambled for Ds and Es, and a good number failed. The entire class was angry at the Lecturer, and we even decided to write a letter to the HOD (Head of Department), calling for the re-marking of our scripts; everyone was agitated except for three girls who got Bs! Two of those girls never came to class and I remember sitting beside one of them during the examination, and she submitted an empty script. So how did they get Bs, when I with all my extra sheets escaped with a C? But hey, that's life. I was just glad that I got a C, however they came about their own grades wasn't any of my business.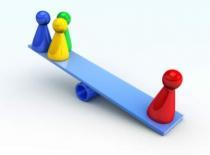 I think that we pretty much would not live happy lives if we measured our journey to that of someone else. There will always be someone that has what we wan,t or what we believe we deserve. Relating that to our fertility journeys, some people sneeze and they get pregnant, some others have to take the high road. Some people get pregnant after one IVF cycle, others have to try a few more times. Some people have the comfort of the company of their partners throughout pregnancy, some others do not have that luxury. Some women glow throughout their pregnancies, others find it to be a 'kill or be killed' situation. Here, we all share the same dreams. We all want to carry our babies in our arms.It doesn't mater how long it takes.  But, we would all get there…eventually. It helps to be positive-minded through it all. Happiness and inner peace is a prerequisite for conception. We have to maintain our joy and focus on our own unique journeys, thanking God for His blessings as we hope for more of His Grace and favour. Remember that we are all runners, but on different tracks. If I get to the finish line before you, I would be waiting for you there with a cool drink in hand. I hope you would do same for me.
Baby dust to all *in @nicole's voice*  🙂
Join the conversation with any of our TTC and Pregnancy Groups here
Photo Credits
https://drhurd.com/
http://www.insure.com