"Tomorrow belongs to those who prepare for it today." – African proverb
Close to eight years ago now, one of the several "mommies" I had been blessed to have in my life died (she was the one who insisted my mom celebrate my 10th birthday), after a six year battle with stroke.
However, before she died, her fourth son, ( she had nine kids in all, 6 boys and three girls) had gotten his girlfriend pregnant, and while it was well known that they were well suited for each other, the girl's family was not happy about the situation, so she stayed mostly with her boyfriend's family, where she was very welcome. It was as though she was one of the girls.
Even in her weak and bed ridden state, the grandma-in-waiting would ask her son's pregnant girlfriend to come close to her, and she would ask them to play some music, turned high, and they would stay like that until the pregnant mom would sometimes yelp in pain, from the kick of her baby. At those times, you would see a semblance of a smile show on the side of the older woman's lips, that hadn't been affected by the stroke.
Sometimes, it's wouldn't be music, sometimes, she would ask my mom to pray, or her own husband to pray for the baby in their own dialect, since none of their kids could speak their language. She kept making sounds and signs to show what she wanted them to do. At first, we were all, like, "Mommy has started again."
Guess what. The grandma-to-be died before her grand daughter was born, but she definitely left her mark on that child; she was never afraid of loud noise as a baby, she also perked up whenever her grandfather spoke to her in their dialect to pray for her. It did not make sense then, but it is starting to. This world is a noisy place, and she was already acclimatized to it in-utero. She might never be able to speak her dialect, if no one spoke it to her again, as is likely the case, but she has a good tendency to learn very fast, as her mind was already attuned to the tone of the language.
Thankfully, most pregnant moms normally, either consciously or not, pat their bump, sing to it, talk to it, all as an instinctive effort to connect with the child they carry, that person who knows how their heart beats from the inside.
However, there is more that can be done to achieve more connections, even for moms who feel guilty that they don't feel that much attachment to their bump, perhaps because it was unplanned, but the truth is, the foundation for a baby's life, its health, its genetic make-up, some psychological and social orientation would have started in the womb. Hence, those nine months provide ample opportunity to prepare that child for the future. You desire for them, and guess what, you already know what to do. All that is now required is to do it consciously, and regularly, before baby comes.
This exercise has a name, it is called Prenatal Communication and Stimulation. Experts on the subject matter say the benefit of engaging in this mode of communication includes creation of a favorable womb environment for your unborn baby, which will in turn promote healthy fetal development, quite an important bit you will agree.
Medical science has shown that a foetus' development is happening all the time, a new cell is developed in the brain every minute your baby spends in your womb, thus the more stimulation it gets, the more information it has to work it, its auditory nerves are trained and, overall, the proper development of the baby's organs is assured. All of these benefits, via something you are already doing – bonding.
Most mothers, as said earlier, pat their bump, sing/talk to it, and babies in utero can also smell. Using these senses as guide, here are three stimulation techniques you can try to improve your bonding with your unborn baby.
1. The Technique of Touch: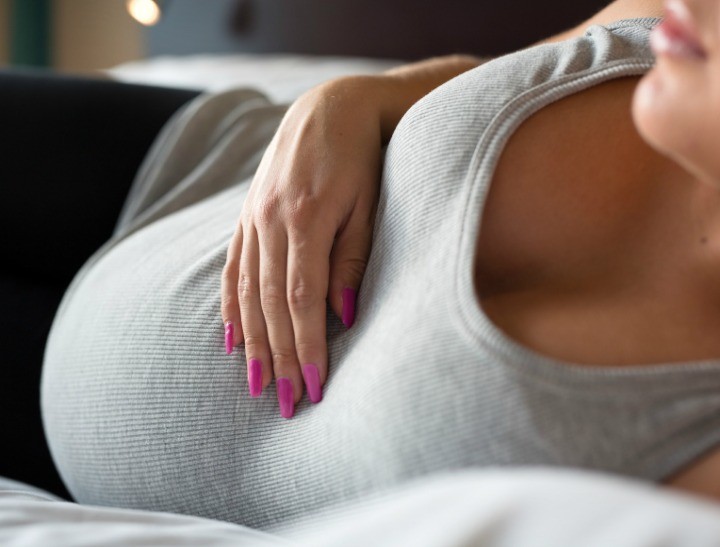 You can begin this particular stimulation technique from the sixth to the tenth week of pregnancy. You use several types of equipment like massagers or textures to communicate with the fetus effectively. Even the oils, with which your rub your burgeoning stomach can serve as good massage. The vibration generated by such instruments gets transmitted via the amniotic fluid, and your baby's peripheral nerves capture the sensation. Your unborn baby's response? He/she slowly moves its legs in the womb.
2. The Vision Technique:
This technique can be used from the fourth month of pregnancy; with the use of both artificial and natural light, you can communicate with your unborn baby. The photons of the light reach to your foetus via, the abdominal wall and stimulate her optical nerve. Not only is it good exercise in-utero for the baby, it allows the baby develop visual discrimination after birth.
3. The Technique of Sounds:
The stimulation method allows your baby to connect with the outside word in the best way possible. By using prenatal music, as the grandmother in the story showed, your unborn baby can understand the internal and external sounds correctly. It has your heartbeat and stomach for internal sounds and the music, as the one coming from outside
Asides, these techniques, there are other tips to help you bond and thus shape your unborn baby's future as you desire:
1. Sing and have actual conversations with your baby
As mentioned earlier, your baby in utero is developing daily. From about 23 weeks, it can begin to enjoy the daily soundtrack of your heartbeat and the growling of your stomach, when, you are hungry. At this time too, your baby will start to hear sounds from the outside world.
Hearing your voice while the baby is still in the womb helps your baby feel attached to you, quickly once it's born. It has heard your voice numerous times and that will count. One theory suggests that the reason your baby's hearing is so well-developed in the womb is to help her start to bond with you even before she's born. After birth, your newborn is quickly able to discern your voice more than any other, and naturally gravitate towards it.
This is the time to introduce singing, if you can, and have actual conversations with your bump, or introduce other sounds that you would want them to be used to. Doing this can be a bit self-conscious at first but you will soon get used to it and enjoy having chats with your bump. Chat on!
2. Nudge and Touch Your Baby
For some time, especially in the early days of your pregnancy, your baby's only method of communication would be bumps, kicks and nudges. You have probably noticed that your baby becomes particularly active when you sit down to rest. Play with your baby by responding to its movements, gently poke back when it nudges you, and see what it does.
You can also rub your belly in the area you feel movements. If you have been observant, frequent patting, rubbing or touching your tummy all day long keeps your foetus calm and quiet.
While the terrible itching caused by a stretched tummy can make you come up with different ways of satisfying those itch, like patting, rubbing and even stroking, however, try touching your bump in tune to your preferred music. You will be surprised that they will actually responded to the music and at the same time, feel your loving touch.
3. Avoid all sources of Stress
Three reasons you should avoid stress triggers while pregnant include:
Maternal stress can have a negative impact on your baby's growth process, and you may have to experience pregnancy complexities.
Staying stress-free makes the environment of the womb more favorable for your child's development.
You should remember that your unborn baby's health entirely depends upon your mental condition and for that sole reason, you should stay happy and relaxed.
Seen enough reasons to pay more attention to this business of using the sensory organs of your baby; touching, communicating and perception to improve the lives of our unborn children, both while they are in the womb and outside? Well, I certainly have.
Strength for the nine months journey!
Join the conversation with any of our TTC and Pregnancy Groups here
Photo credits:
1. http://www.dentalplans.com/
2. http://www.themotherish.com
3. http://i.dailymail.co.uk/
4. http://i.telegraph.co.uk/
5. https://www.pinterest.com/