Adenike had always longed for a baby. The minute all wedding plans were fully in place, she started trying to get pregnant. It didn't happen however, and so she had her wedding, went for her honeymoon and returned to active TTC mode. She had always loved babies! As an only child, she had spent most of her afternoons after school in the home of one new mother or the other, in her neighborhood, running errands and watching the baby sleep. The minute she was old enough to do more than fetch a flask, watch the baby or hold a feeder; she graduated to carrying babies on her backs, singing them to sleep and feeding them. Everyone on her street knew and loved her for that. In fact, her mother suffered grief as a result because everyone kept asking "Nike likes children so much, why don't you give her a sibling?" If only they knew how much the woman was trying. She saw her daughter's longing and love for children, and when she was past menopause, she stopped praying for another child, but spent nights awake, praying for her daughter's womb to be filled with children.
It came as no surprise to anyone when Nike graduated from the University and decided to go for Montessori Teacher Training; she wanted to work with young children. After her training, she started working as a Teacher in a private school in Lagos. She loved her job, but it made her yearn for her own kids even more; watching mothers worry over their children, the joy on their faces when they came to pick them up from school, their pride when she told them how well their children were doing in school…she wanted that.
She even met her husband on the job; Akin had come to pick his niece from school and Nike had vehemently refused to release her. "Her mother is the one who usually picks her, so I am sorry but I can't release her to you". They both tried to contact the child's mother but her number wasn't reachable. Akin had begged and begged, but she was adamant. "Can't you see Tolu recognizes me?" Akin blurted in frustration, after trying to convince Nike for over an hour. "You want me to trust the judgment of a two year old? I am sorry I can't do that". They both waited for extra two hours before they were finally able to get across to Tolu's mother, who then gave Nike the go-ahead to release the child to Akin.
Akin couldn't get over the way Nike had protected that child like a mother hen; he had watched as she fed Tolu, changed her diaper and even rocked her to sleep when the wait was getting long. "Not every teacher would sacrifice their time like that for a child. That is the kind of woman I want to marry" he told his sister, Tolu's mother, who had nothing but praises for her child's teacher. In turn, she was able to persuade Nike to go out with Akin one evening, and eighteen months later, they walked down the aisle. The day Nike called her mother to inform her that she was back from her honeymoon, the older woman asked in their native language "I hope it's not fine buildings and desert you went to look at in Dubai! I hope you came back pregnant?" Nike wasn't pregnant at the time, but she took in the following month, and they welcomed a baby girl months later.
Unconsciously lost in the euphoria of her bundle of joy, she sidelined Akin. Finally, she had her own baby! It was a very personal bliss for her and she forgot to carry her husband along. Her mother was on hand to help with the baby, but Nike still pretty much dotted on her daughter every minute. She was up at the baby's first cry, slept mostly in the nursery, and simply turned her husband to a figurehead. Akin understood and tried to let her bask in her motherhood bliss; he didn't like when she got worried about him not carrying the baby well, or her calling him selfish when he begged her to sleep in their room and let her mom watch the baby. But he was feeling sidelined and short changed, like he wasn't allowed to enjoy his new fatherhood status as well. It was Nike's mother who noticed what was going on and called her daughter to order. "As much as you are a new mother, your husband is also a new father, but you are depriving him of enjoying that. Even I, as a new Grandma hardly get enough time with my grandchild, because you hover around Mopelola so much".
Nike knew that her mother was right, and she apologized to her mother and hubby, and started to make amends. Some nights, it was her mother that slept in the nursery with the baby, with expressed milk on hand for midnight feeds, so Nike and Akin got some coupling time. Other nights, Mopelola's crib was brought to their room and they all slept together; this usually happened on the weekends. Akin was happy to wake at midnight with his wife and chat with her as she fed their baby. They made jokes about Mopelola's feeding habits, caught late night movies together, watched YouTube videos, and Akin had the pleasure of rubbing her back until she burped. Nike could see her husband's eyes light with pride, and she realized it was better to share her new bliss with him, than alone. With time, he learnt to feed the baby properly, and to change diapers; so much so that when Nike's mother left, she was so happy that her husband could watch the baby, feed her or change her while she had some other chore to do, or craved a nap.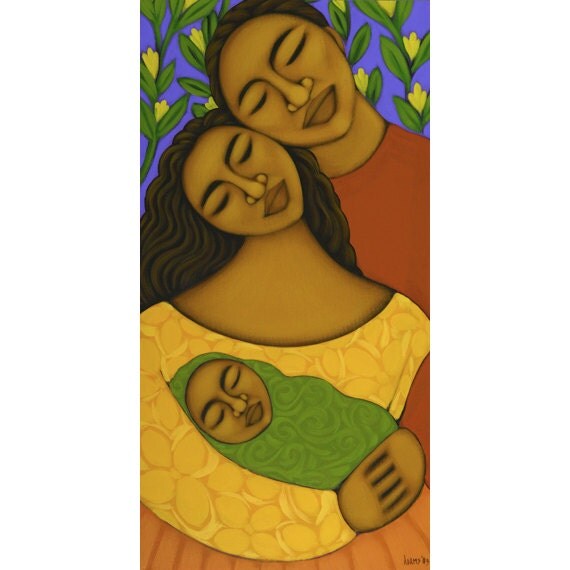 It is really important to carry our husbands along. Men are so good at masking feelings, that we think they do not have as much emotions as we do…but nothing humbles a man like being a father; either for the first time, or all over again. It's a new pride for them, a new accomplishment, a new status, and a new bliss as well. Giving him more room to partake in your new joy would help you individually when you have multiple chores on hand, and need someone to watch the baby. It would help him too by making him feel like a part of the parenthood process, not just someone whose sperm was used in creating life, and it would help the baby too because you better take photos of their father-child moments that your child would cherish when he/she grows (enough photos for Father's Day tribute and of course #ThrowBackThursday), and ultimately bring a sense of union and cohesion to your marriage and family unit.
So aspiring momma, when it happens, please don't leave the hubby out 🙂
Join the conversation with any of our TTC and Pregnancy Groups here.
Photo Credits
www.shop.kmberggren.com

www.pinterest.com
www.etsystatic.com