July 7th, 2009
I don't even understand this period of mine.
It only only hung around for a day and a half. That can't be normal, can it?! Very strange. Oh well.
Thought about having some nice non-TTC sex, but I am far too tired and Babs, bless him, is already snoring on the sofa. Oh well. There is always tomorrow.
July 13th, 2009
Today is the first day of our week off, and it felt so good to just lay around, doing nothing! It's the first time Babs and I will be off work at the same time, and not have any travel plans. It will be great to just veg out at home for once.
The strangest thing has happened. Ever since AF left, my libido returned with a vengeance!!!!! I'm due to ovulate on Thursday or Friday, and I hope this libido hangs around till then. It's great! If we don't manage it this month, it might be because the egg drowned in all the swimmers!! LOL!
July 15th, 2009
I just got a positive OPK. Yay!
The line is darker than the control line!! I have never seen one that strong before. So excited. And we've had a whole lot of sex these past few weeks. We actually have a chance.
July 17th, 2009
I think I'll soon be in the two week wait…
To be honest, I don't want to go into the 2WW. It's scary! I like this bit where it's fun and full of hope and possibilities and potential.
This is scary!
July 19th, 2009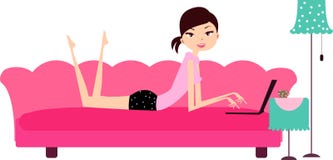 So, I'm 3DPO today, and not a single symptom. It's as to be expected really. I'm going to try and stay busy, so I don't think about it too much!
July 20th, 2009
I'm back to work today, after a week at home. It didn't go too bad, but it wasn't the same as being at home. I kept texting Babs, saying that we were missing this show or the other on TV. Oooh, how quick you can be addicted to mindless daytime television!!
My temps are a bit rubbish this cycle, and still aren't above the pre-ovulation temps. Hopefully, in the next day or two they will skyrocket upwards!!
I've had tonnes of creamy CM the last couple of days. Way more than normal. I don't know if this is a sign of anything though. Or whether it is the buildup of all the sperm from last week that couldn't get out, because I had the cups in almost 24/7. Gosh, that would be gross!
Back to the waiting game now I guess. I hope the next ten days go quick.
July 21st, 2009
My temperature is up at last. Thank God! I can carry on pretending I am not obsessing about everything now!!
I don't have any real symptoms though. I had a few aches and twinges yesterday, and this morning my temp had risen, but that is all really. I feel fine today.
I have developed a new obsession with taking my temperature though. I don't know what it is supposed to do to help me. It must be a comfort thing!!! I'm insane!
July 22nd, 2009
So, I finally have sore boobs…..
Symptom or early PMS? Who knows?! Only time will tell!
July 23rd, 2009
My boobs are still sore, and I'm thinking it must be a good sign. I very rarely get sore boobs. Maybe only once or twice a year. And they are getting worse too. I ran down the stairs at work today, and I was in agony at the bottom of them.
I'm trying not to get my hopes up though. We all know how cruel our minds and bodies can be, playing games with us!
July 24th, 2009
My temperature has dropped a little. It's so hard not to be obsessed and take it as a sign to give up.
We have friends round for dinner tonight, so at least I will be distracted and think of something other than the 2WW. Here's to hoping…
July 25th, 2009
I had another big temp drop this morning. I was so convinced we would do it this month…but it doesn't look like it was meant to be!
But, did have a great night last night!!! Everything went like clockwork, everyone said the food was wonderful, and they really enjoyed my cooking. The wine was certainly great!! We had so much fun that it seemed like one moment they had just arrived, and the next it was midnight.
Now Babs has offered to buy me something pretty, as they were his friends, and I worked so hard to make the night great for everyone!
Hmmm…I wonder what I'll ask him to get me 🙂
July 26th, 2009
I'm trying not to get hopes up. I have a gut instinct that it won't happen this month, and I predict another temperature drop tomorrow.
I still haven't got a single symptom, apart from the sore boobs, which haven't got any worse since day 6DPO, and perhaps slightly better!
It's strange being 10DPO and not being tempted to test! I've been in such a good mood this weekend, I don't want to be bummed out by the bright white space of a negative pregnancy test result.
My name is Morayo. I'm a TTC Warrior…and I'm far too stubborn to give up.
Catch up on Morayo's story here: