Recently, I had a conversation with a dear friend, who had just conceived after a cycle of IVF. After four prior failed cycles, she and her husband had been advised to go the donor egg route, as her own egg quality was poor. They were lucky, as they got pregnant after their first donor egg cycle. They were overjoyed, and she called me shortly after she got the news. I was over the moon for her, and we soon started talking about when how soon she could see a doctor. She lives in Kano, and had traveled all the way to Abuja for her cycle. As she wasn't too confident about her clinic in Kano, we soon started discussing options; whether to look for another clinic in Kano, or if she should go back to Abuja, or if she should come to Lagos, as her mother had suggested.
"Nicole, to be honest, I really want to come to Lagos, as that's where the doctors I am most comfortable are." she admitted.
Fair enough. Before I could even ask her if her husband would mind, or if she could get time off work, she added. "But I don't want to use my family doctor, and run the risk of him telling my family that I used donor eggs."
"So?!" was my own bemused response. What on earth did it matter?! Wasn't the only important thing the fact that she was finally pregnant.
She laughed. "Nicole, don't talk like that oh. If my family should hear that I didn't use my eggs, the story will change. That child will never be regarded as one of their own. They might not say anything now, but I don't want to risk anyone insulting my child some years down the line. My husband and I have decided that nobody outside the two of us will know about this. You are the only one I've told."
I ended up giving her a sermon about how she should explain to her family that that baby has been growing inside her since it was just a collection of cells, how science has proved that that unborn babies can feel, perceive and learn in utero, and how the bonding and attachment would not be any different than if it had been her own egg, but she just laughed and insisted that she knew her family, and there was no way they would be able to digest the news.
After our call, I thought about it for a while. I have always thought of donor eggs, and sperm, as welcome assistance to those who, unfortunately, are not able to use theirs. If it had come to that, I would have used them without even batting an eye. And I would like to think that it would not have mattered to my family either.
But the more I thought about it, the more I realised that, alas, in every family, there will always be the myopic and judgmental ones, who will derive joy from nothing other than tearing others down. I realised that, although the fact that I had IVF is no secret, I haven't shared that piece of information with all my relatives…simply because I know that their thinking is still trapped somewhere in the 18th century! No, I am not ashamed, and would shout it from the rooftops! But, I have inadvertently screened this information from these narrow minded family members.
So, I understood where my friend was coming from. I knew she wasn't ashamed of using donor eggs, but, because she knew the people she was dealing with, had decided to screen that information from them, to protect her child. And I knew it was the sensible thing for her to do. Not just from her family members, whom she knew wouldn't understand, but from anyone at all who could potentially give her negative energy she didn't need.
Full of curiosity, I asked another friend of mine, Loretta*, about her own experience. She had had her twin boys using donor eggs, and was the happiest woman ever. And she was very candid with me.
"It wasn't an easy decision for me to make." she admitted. "I thought I was a failure to have to resort to it. I thought my husband would consider me a failure…I thought I had failed my womanhood. In fact, I went through that cycle very detached and uninterested! But after those embryos were transferred, something inside me changed. Even before I got my positive test result, I used to talk to them everyday, begging them to stick…and I fell in love with them. And during the whole pregnancy, the love only just magnified! Today, I don't even remember it. Those boys are my flesh and blood. Can't you see that Taiwo even looks like me?" as we laughed, I actually noticed that the boy actually did.
"Did you keep it a secret from your family?" I asked.
"We wanted to at first, but we decided, what the heck! And so we told them…both families! And they have been amazing! Of course, there are the one or two that had their own colourful opinion, but who cares about what those ones think?!"
As we talked some more, we later got to the topic of donor sperm, to which her reaction changed. "Ah! I wouldn't have been able to do that one oh!"
I actually understood why, but chose to ask anyway.
"Nicole!!! You know how men are! What if he wakes up tomorrow, and starts shouting about how the children are not his??! With our donor eggs, I know how long it took for me to get emotionally on board, and at least, I was able to carry the children in pregnancy. With donor sperm, my husband would just be an observer! Ah, I couldn't do that to him!"
The funny thing was I could identify 100% with what she was saying. It would take a very strong man, emotionally and not physically, to opt for the donor sperm route. As much as I love and trust my husband, I realised I couldn't vouch for what his reaction would have been, if it had come to that.
I attended a seminar recently, where medical practitioners were discussing various advances in fertility treatment. One of such centered around the use of donor eggs, wherein the cell matter from the recipient would be transferred into the egg received from the donor…so even though it was a stranger's eggs, the DNA of the recipient would have been replicated in them.
Rather than be impressed, I was actually a bit flabbergasted.
The honest truth is that all this really shouldn't matter. What's most important is the gift of parenthood. If we are so hung up on DNA and genetics, then what hope would children looking to be adopted have? If having at least one partner's DNA isn't enough to make a couple feel happy and content with their bundle of joy, then the couple might need to question it's commitment to each other. After all, isn't what's mine yours? And vice versa? If one partner's DNA is involved, surely that should be enough.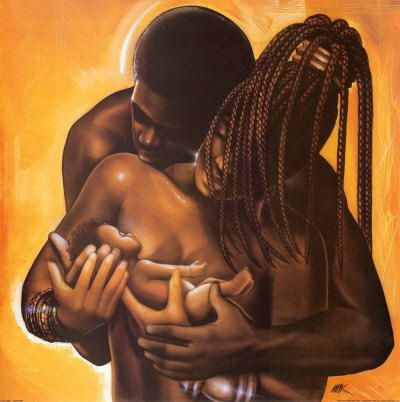 And even if neither partner's DNA is present, as long as the couple has bonded over it's decision to open it's heart and home to an adopted child, that is all that is required to make that child 100% yours.
What's most important is for the couple to be fully accepting of whichever route they choose…everyone and everything else is secondary. And you are under no obligation to be on full disclosure mode. If you prefer to keep this information quiet, or if you decide to let everyone know, it's entirely your decision to make…and that decision should be in the best interest of, not only you and your spouse, but your child as well.
Baby dust to all!
Photo Credit
http://www.fivet-napoli.com/
http://www.africanartworld.com