March 24th, 2013
I actually felt bad when the weekend with Diana came to a close. This morning, we had gone to Church together, had brunch at an upscale hotel's restaurant, and come back home to watch Bollywood movies.
By the time Patrick came to pick me up at 5pm, I almost felt like asking him to give me another day. But I knew that 2 nights were more than enough. We had been able to bond, and had talked about our innermost secrets. As I left her apartment, I was happy to know that, not only do I have an awesome soon-to-be sister-in-law, I have actually gained a very dear friend.
On the drive home, I just had to tell Patrick about her pregnancy. Ah, I'm sure she doesn't expect me not to tell my husband!
Patrick whistled. "Wow! That your brother is a baaad guy oh! Two baby mamas at the same time?! Ah, that one na yawa oh!"
I frowned. I hadn't even thought about it from that angle. I had been so caught up in the joy of the pregnancy, but the anxiety about Phillip not being aware of it.
"Does it really matter?" I asked, but even as it came out of my mouth, I knew how naïve I sounded.
"Well…technically, it shouldn't. But it could make things quite messy." Patrick answered. "Any word from Akunna?"
I sighed. "She's still refusing to sign the agreement. Phillip says her lawyer actually threatened to sue for breach of contract."
Patrick nodded. "Verbal contract, right?"
I looked at him, shocked. "But that's rubbish now! Surely, they shouldn't be able to do that! There was nothing signed to bind us to what they tried to bully us into!"
"Unfortunately, it is all a function of the lawyer's expertise. If she has a good one, they can make things pretty difficult for us. We should never have agreed to that absurd request in the first place."
Tell me about it!
Getting back to the compound, the absence of Nwando's car was a further reminder that she has truly ceased to be my neighbor. Just like that! We spoke on the phone yesterday, before she left for the East, in anticipation of her traditional wedding on Easter Monday, and it felt so bitter sweet. I'll miss her, but Ikoyi isn't too far away. It could have been worse! She could have been moving to Festac (LOL! Sorry, Mom)! Or, worse still, outside the country.
I'll surely miss her!
March 25th, 2013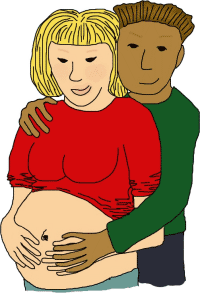 I woke up feeling grumpy today.
In the shower, I was so irritated by my bump. It isn't the cute football shape I'd hoped for, the kind all these 'celebrity' mums seem to have, which looks great under form fitted tops and dresses. Instead, my own bump has chosen to grow in at the middle, making me look wide and strange! And my belly-button has popped out, and has insisted on making its presence felt through almost all my items of clothing! So annoying! I hope it goes back to normal once the baby is born, as I don't fancy having an 'outy' for the rest of my life.
My mood must have been pretty pronounced, as Patrick actually asked me what was wrong, as we drove to work. Considering I usually have to leap around in front of him, naked, with a sign saying 'I'm not happy! I'm not happy!! I'm not happy!!!' before he ever notices.
After a bit of persuasion, I told him that I was fed up of looking fat, rather than pregnant, and that I wasn't I feeling glamorous at all! My usually practical-to-a-fault husband, who would have brushed this aside on a good day, gave me a hug and told me that, not only am I still beautiful, glamorous and sexy (his words), I also have 'inner radiance', which he finds very attractive. I was shocked speechless. My husband isn't big on compliments, so to get this double, abi treble, abi quadruple whammy, totally blew my mind! Instantly, my bad mood cleared, and by the time we got to my office, I actually had a spring in my step.
And that was the mood I carried for the rest of the day. It gave me enough patience to listen to Ebika whine about how she was being bullied incessantly on Social Media, despite not having uploaded any new images in days. Trolls had taken over her page, and were leaving caustic comments on even her older pictures, which had nothing to do with Demola. When she asked me if I thought she should shut down her Instagram, I even had enough patience to smile and answer her.
"Wouldn't it be easier to set your account to private, and then block these other users?" I asked, in my sweetest possible tone, knowing fully well that she wanted her profile public, so Oyinkan, and her other detractors, could see any posts she uploaded of, or with, Demola in the future.
"I think I'll just block the people commenting," she answered, very predictably. "No need to set the account to private."
I gave her the yimu as she walked away. She would rather leave her account open to all sorts of random trolls, than do the sensible thing and restrict it. Well, I guess we each have our battles.
I thought back to meeting Demola last week, and, on some level, can I understand why Ebika wants to deploy every tool in her arsenal to fight for the man. Good looking and wealthy. Many women would kill for a guy like that.
Except sensible women. Nah! We would have told him to move right along! Better a plain looking, responsible, and drama-free man, than a beautiful man with enough baggage to fill a whole warehouse.
Soon, it was the close of the work day, and the thought of the week being a 4-day one put even more pep in my step!
It was a good day!
Photo Credit
http://h2g2.com
Catch up on Faith's story here: