February 7th, 2013
"Ah, thank God oh! You are smiling today!" Ebika had remarked, as she stopped by my cubicle "Yesterday, it was as if you would bite off the head anyone that even greeted you!"
I had to laugh. Yesterday had been a difficult one, true. But thank God for Diana! If it hadn't been for her, I would have been sinking into a deeper hole by now. But, like she advised, I have chosen to live in the moment, and be grateful for the good health of myself and my baby. I have nothing to complain about now, and I'm not going to use my leg to go looking for trouble.
Over the course of the day, I heard that some colleagues had tried to see Ejiro in the hospital yesterday, but had been turned away by her husband, as she apparently hadn't been up to seeing anyone. I am ashamed to say I was happy to hear this, as I have been wondering how I would go see her. I have wondered if she would feel bad if I carry myself, and my big stomach, to visit her? Would it be like I'm mocking her? Rubbing it in her face? I have been struggling with this, but hearing that she's not seeing any guests at all just made things much easier. So, I have decided to drop a small gift for her tomorrow, and probably call her when enough time has passed.
At about 4pm, I started feeling a bit weak, so decided to call it a day early. Apart from needing to rest, I realized I needed to start organizing myself for our trip on Sunday.
Yes oh! My boo and I are going on a babymoon! Well, if you call me accompanying him on a work trip a babymoon! Anyway, it's the first time since our honeymoon, almost 3 years ago, that we will travel together. Pathetic, I know! Somehow, we haven't been able to sync our vacation periods, so it just hasn't happened. I'm really looking forward to being all loved up in a different country. The only bummer is that the weather is not playing games at the moment, so that means I have to dig up my sweaters and jackets I haven't had cause to use in years. But a small price to pay.
As I drove into the compound, I noticed Nwando's car was already there. Strange. She didn't normally close from work this early. I decided to check on her, to be sure everything was fine, so I made a detour before climbing the flight of stairs to my apartment.
She looked pretty cheerful, when she opened the door…maybe even too cheerful. And she had an old school music mix blasting very loudly from her iPod speakers. I cringed as the loud beats from Busta Rhymes Pass the Courvoisier pulsated in my ears. She noticed, and immediately went to turn down the volume.
"Sorry. I've been spring cleaning all day, and I got carried away" she laughed "Nothing like some old school beats to pump you up!"
"You didn't go to work today?" I had asked, staring around at the freakishly clean apartment. It was spotlessly clean on a good day, but today, it looked as clean and sterile as an operating theater.
"No, I just needed to rest." another round of over cheerful laughter "You know what they say about all work and no play!"
Riiiiiiiiight.
"Babe, is everything okay. You don't quite seem like yourself." I couldn't help but state the obvious.
That annoying laughter again. "I'm fine oh! Very fine! Over fine sef!"
Changing the topic, I then asked "How is Obinna? This his trip is lasting long oh! I hope they haven't transferred him back to Europe"
The long hiss was the first crack I saw in her over-bubbly mood.
"They should even transfer him to the moon sef!"
Aha. No wonder. Trouble in paradise.
"Is he back?" I went on to ask.
"He's back. He's been back for over a week. But I have warned him to just stay well away from me!" she snapped.
Hian! This is serious!
"Babe, what happened?!" I asked, in genuine shock. Wasn't it just a few weeks ago that they had been all loved up and happy.
"Can you imagine?! That man, that deceitful man, actually has children in Holland?!"
My mouth dropped to the floor. "He's married?????!!!!!"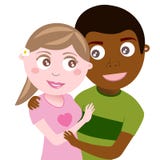 She frowned. "Of course he's not married!" she hissed again. "One white lady in Holland has 2 sons for him!"
"Is he still dating her?!" I asked, still trying to understand the issue here.
"No! They broke up like 5 years ago. She is even married to someone else. The boys are 9 and 7 years old."
By this time, I was beginning to lose my patience. "Nwando! If he is not married to the woman, isn't dating her either, and she has even gotten married herself, what is the issue here?"
"The issue here, Faith, is that he already has kids! And he chose not to share this information with me until last week, when he came back. He led me on for all these months, without bothering to let me know that he already has children!" she yelled, as if I was Obinna's representative.
"Maybe he was just waiting for the right time to tell you…and he was the one who told you himself, not that you found out from someone else…"
"Faith, I can not be with someone who already has children…talk less of sons! You are not Igbo, so you won't understand. Those children will always come first for him. No matter what my children and I do, we will never measure up! He has sons, Faith! Sons!!!"
I had to stop myself from rubbing my eyes, to be sure I was seated in Nwando's living room, and not smack in the middle a home video, talking to one of Patience Ezokwor's characters. What the hell kinda mess was she talking?!
"Nwando, are you even listening to yourself? Do you know how silly you sound?" I had retorted "So the man has a past, so what?! You want to crucify him for being a father? Would you have preferred for him to have walked away from those children forever? Or maybe he should have just kept you in the dark about it, and not told you."
"Excuse me?!" she exclaimed, shocked at my outburst.
"My dear, you need to wake up and smell the coffee! That man loves you! Even a blind man can see. But if you like, you can stay here and be doing bend down select until your 40th birthday, you hear!"
From the flare of her nostrils, I knew I had crossed the line.
"Please, leave my house!" she snarled.
"I'm already going!" I snapped right back, grabbing my handbag.
The impact of the slammed door almost shook the building to its foundation, and missed my back by inches. As I ascended the stairs, I knew that, once again, I had crossed the line.
And I don't think yellow roses will cut it this time!
Catch up on Faith's story here: