November 24th, 2009
One of the biggest lessons I have learnt in this journey of mine is that diets don't work. Diets by nature are band-aids. They aren't a cure for obesity. They don't aim to find the root of the problem, they don't stress the importance of physical activity and most aren't practical for the long term. This is why you can lose a whole lot of weight on a diet, and put it back on before you can say Jack Robinson.
Yep, I woke up feeling philosophical today. When I got back from the gym, after my shower, I sat on my balcony, green tea in hand, and just pondered my weight loss journey, over the years. I remember, back in the early days, when I had just moved to Lagos, but before I married JJ, when I risked my life with the slimming pill, Fen-phen. I got down to my smallest weight ever (65kg), but then it had been discontinued, and I slowly but surely gained it all back. And then some. The same thing happened with the liquid diet I was on, some years before, when I was still in University. I had lost weight, but had been weak and lethargic…so much so that I could barely get myself out of bed, talkless of attend lectures.
Or how about my love affair with Dr. Atkins, in the early days of my marriage, when I chose to eliminate carbs? Great idea, except for the compulsive eaters like me who always find a way out. I would eat my weight in red meat and chicken, and wonder why the kilos weren't falling off. Atkins taught me nothing about fostering healthy eating and exercise habits, and once I slipped back into my carb loving ways I gained even more weight.
So, I wrote down all the things I have learnt so far:
You can't lose weight without identifying the root cause of what exactly is making you overeat. I have long realized mine has to do with my emotions…especially the deep rooted resentment I have for my Dad.
Ditch the diet mentality. A healthy way of life isn't something is seasonal. It's a way of life. A healthy life.
Don't try to master too many changes at the same. Mastering one change at a time will have lasting benefits.
Always…always…make thoughtful and sensible choices concerning food and physical activity.
It is important to be accountable for your actions. Take responsibility! Own it! That way, you are better able to resolve it…quicker!
Set realistic goals! With this journey, my goals have been slow and steady. In my previous diets, I had set the goal at getting to size 8 (British oh)…quite a treck from my size 20+ body. So by the time I lost a few dress sizes, because it was so far away from my 'target', I would lose hope and fall off the wagon. This time around, my goals have been dropping one dress size at a time. Now that I am a comfortable size 20 (from the size 24 I was when I started), my next goal is getting to a size 18. And that has really helped me.
Basically, it's just one day at a time!
Later in the evening, I decided to try something different for dinner. By enjoying my healthy meals, it has made me actually want to eat keep eating healthy. I found a recipe for a Creamy Rice and Mushroom soup online, by celebrity chef, Rachel Ray. What caught my eye about this recipe is that it's a lighter variation of a traditional chicken and rice casserole. I decided to replace the heavy cream, with organic yoghurt, and the long grain rice with a healthier brown blend.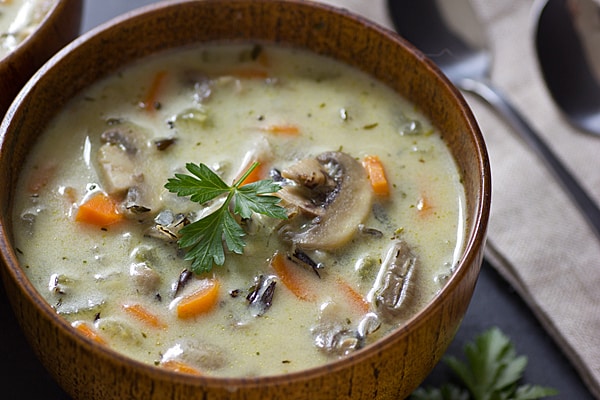 Here's how I put it together. I soaked the dried mushrooms in chicken stock, for about 10 minutes, after which I blended the mixture in a food processor, for about 20 seconds. Then in a large pot, I heated olive oil, over medium-high heat, and then added carrots, onions, and a bit of and sage. I cooked it by stirring until it was crispy-tender, for about 5 minutes. I then added the mushroom mixture, and cooked, stirring, for 1 minute. Next, I stirred in the remaining chicken stock, and my per-boiled brown rice, and brought it to a boil. I then added the chicken breast, lowered the heat, and simmered, stirring occasionally, until the rice was tender and the chicken breast cooked through. I then transferred the chicken to a plate, shredded it, and returned it to the pot. I stirred in my yoghurt, and seasoned with salt and pepper, and let it simmer for about 5 minutes.
Even though my family has been really into the meals I have been whipping up, I didn't think they would be interested in this…being soup. But how wrong I was! The aroma of the soup pervaded my entire house, so much so that I soon had everyone peeping in the kitchen, to see what was going on. It was just like one of those terrible seasoning cube adverts on TV…LOL!
In the end, everyone had a taste…even my nanny!
The great part? Only 280 calories of collateral damage!
Not shabby for a Tuesday evening! Not shabby at all!
Catch up on Ihunna's story here: